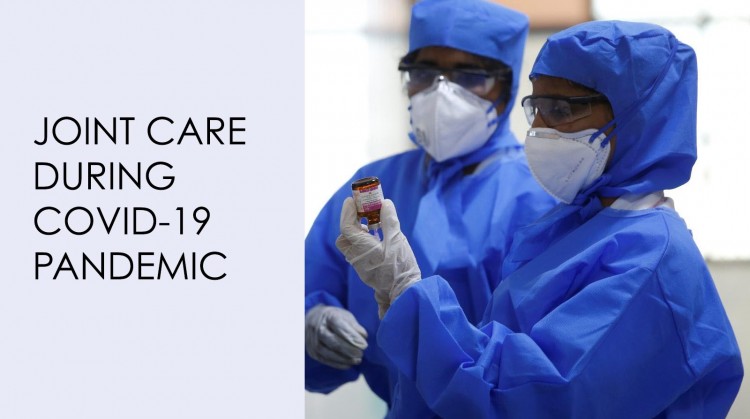 Ways to take care of your joints during the COVID-19 pandemic
As you know, elective surgery is a type of surgery that isn't performed in an emergency, but rather pre-planned. A list of elective surgeries like replacements of joints such as the hip and knee are being delayed to a further date because of the ongoing pandemic of Coronavirus or COVID-19. It is quite necessary to avail of proper hospital staff and resources for taking care of the patients fighting with this deadly virus. More and more awareness is being spread among people to practice social distancing in their communities and not to go to the clinics and hospitals unless they are very much ill and require proper medication.
At times of COVID-19, are you waiting for or undergoing recovery from knee joint replacement? At the same time, are you going through painful hip and knee joints? We have compiled this article just for you!
Here we have discussed multiple ways to improvise the health of your joints and hip and knee pain relief whether you-
Are you waiting for a replacement for your joints(hips and joints)?

Just had the surgery and are recovering from it at your home?

Did your surgery get postponed? 
Give a try to the following things before you get the next date for your surgery.
What should the patient do?
Your pain can be managed by simple medications whereas hip and knee pain exercises can strengthen the leg muscles. As you are waiting for the surgery, you can do the following things as recommended by the AAKHS(The American Association of Hip and Knee Surgeons)
You must follow the guidelines prescribed by your doctor which usually includes anti-inflammatories. Counter pain relief medication does help in treating painful hip and knee joints. Before starting any new medication, you must surely check it from your primary physician.
You can also apply heat or ice in the joints for hip and knee pain relief.

You must stretch and low-impact exercises for making your joints flexible.

You should make efforts for weight loss as every pound of weight you lose, your knees and hips are unloaded by 3-6 pounds.
What exercises can he/she perform?
Here are some knee exercises that encourage the range of motion and reduce scar tissue.
If you already had your surgery, there are a few things you can do to maintain motion at your home amidst the COVID-19 pandemic. 
The wound area must be kept clean and dry. The dressing(applied in the hospital) should be changed regularly as directed by your doctor. Before leaving the hospital, you must collect all the information and instructions regarding the removal and change of the dressing.
Preparation of a "recovery center". Place items frequently and regularly used by you within easy reach.




Removal of throw rugs or area rugs which might cause you to slip and harm your joints. The electrical cords around the perimeter of the room must be fastened securely.




Must get a good chair. The chair must be firm and should have a seat higher than an average seat. Such a type of chair increases safety and is more comfortable as compared to a chair with a soft cushion.




The following things must be installed in your bathroom to increase the safety- 

Shower chair

Gripping bar 

Raised toilet seat




There should be an increase in devices to assist you so as to avoid bending over too far.  

A long-handled shoehorn,
A long-handled sponge,
A grabbing tool.

Here is the list of physical therapy exercises after Knee & Hip replacement recommended by AAKHS
During the recovery time for hip and knee replacement, the following guidelines must be followed for  preventing infection and taking care of the wound :
You can walk as much as you like, but it must be kept in mind that walking is not a substitute for the exercises prescribed by the doctors and physical therapists.
After a hip replacement, you can start swimming as soon as the doctor lets you know when to begin, only if the wound is sufficiently healed. Being a low-impact activity, swimming is an excellent option for fitness.
Golfing, bicycling, and light tennis being lower impact fitness activities are more preferable over jogging, racquetball, and skiing as they are high-impact activities because they put less stress on the hip joint.
How to contact the doctor's office in such a difficult time of pandemic?
At hard times like this, you must keep in mind that your surgery is being delayed for the benefit of yourself and your community because all the clinical resources of the hospital are engaged for the treatment and prevention of this dangerous virus. 
Have patience and be in touch with your physician and their team as a lot of people have already been affected. Your doctor will make all sorts of efforts like rescheduling the canceled surgeries and address your requirements  as fast as possible
The follow-up appointments and elective surgeries will be done as soon as there is the availability of resources. BE A PATIENT PATIENT!